Palantiri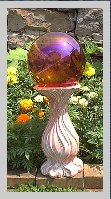 A Palantir
(that which looks far away...)

"What did the Men of old use them for? asked Pippin....
"To see far off, and to converse in thought with one another,"said Gandalf.
"In that way they long guarded and united the realm of Gondor."

-- The Palantir, The Two Towers

Blue Swirl Palantir
The perfect palantir for a Garden of Ithilien.
It reflects both earth and sky while spreading an under-water blue light.
( Three Views from the Garden of Ithilien)


Rohan Palantir
Located at the back entrance to the garden path, this sunset-colored palantir catches and reflects light from the setting sun. It is pearl irridescent, but also partially transluscent which makes it softly glow at night when it catches rays from a nearby pathlight.
Seen through the branches on the front side of the path at night it looks like a soft glowing rising moon.
(It is set on an open metal stand which allows ambient light to enter from the bottom).
During the day it is nestled among Summer Dream and Perfect Moment roses, which also look best at sunset.

Hobbiton Palantir

The description for this tiny and sparkling palantir is on the Hobbiton Happiness page!

Some More Palantir Ideas
The Sky
(irredescent white, blue, and pearl)


Misty Mountains
(white, mauve, and pearl)


Mirkwood Forest
(irrerdescent brown, white, and green pearl)


Dwarven Hall
(irredescent black, white, and orange-gold pearl)


The Sea
(clear teal mother-of-pearl)


The Lonely Mountain
(white pearl with heavy red veins)


West towards Edoras, in Rohan at Sunset
(irredescent peach and white marble)



Palantiri Source