Little Villages

Our home is aglow year-round with lighted villages from Dept56. Always a wonderland. Always aglow.

New England Village

Christmas in the City

Alpine Village

Snow Village

Dickens Village

Room Displays

The Dream Continues
---
New England Village


New England Village Autumn Mantel

Pennsylvania Dutch Barn and Farmhouse, Arlington Falls Church, Harvest Pumpkin Wagon (Bear's favorite!), Blue Star Ice Co. (Lamb's favorite! Love how the blocks of ice reflect the light), Bluebird Seed and Bulb. Accessories include fall trees and the Medium Village Mountain cut in half, with both pieces placed flush against the wall. Also used in the Alpine Village mantel with mountain climbers.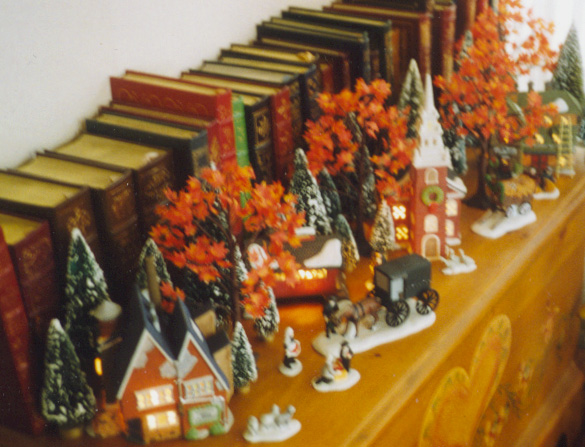 New England Village Autumn

Note that a light has been put into the covered bridge behind the carriage. It makes the entry very beckoning and helps illuminate figures in the display when the room is darkened.
---
Christmas in the City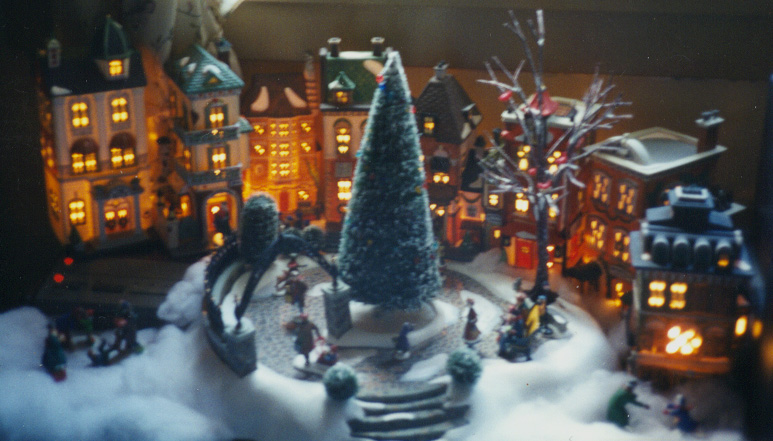 Christmas in the City
(Bedroom Display)


Christmas in the City Mantel

Hollydale's Department Store, Music Emporium, Wongs Chinese Restaurant, Ritz Hotel, Little Italy Restorante, Potter's Tea Seller, Spring St. Coffee House, Subway Entrance, Newstand (behind tree), Haberdashery, Red Brick Fire Station, City Clockworks, First Metropolitan Bank, Ivy Terrace Apartments, Holy Name Church

There are actually three "squares" in the above mantel:

1. Square bounded by Hollydale's and the Little Italy restaurant , with a bounding wall in front, a lighted tree in the middle, and filled with holiday shoppers.

2. Christmas Tree Square. The Christmas tree is very far forward, allowing activity all around. The newstand with assorted happy patrons is behind the tree in its own little world, and fully visible in person as your eyes look around the corners.

3. Square bounded by firehouse and church, with a happy mix of carolers, vendors, and the firehouse crew.
---
Alpine Village


Alpine Village Mantel

Danube Music Publisher, E. Staubr Backer, Kamm Haus, St. Nikolaus Kirche, Sport Laden, Apotheke, Bernhardiner Hundchen

As with Christmas in the City, this mantel is broken up into three squares, so that in person the eye is drawn into multiple worlds:
1. The Meeting Square (with musicians)
2. The Church Square (with mountain climbers, churchgoers, and we use the New England sled because the colors and costumes go well with this village also)
3. Alpine Shops (with vendors and puppies)


Alpine Village

Metterniche Wurst (Sausage Shop), Kukuck Uhren (Clock Shop), Milch-Kase (Milk and Cheese Shop), Bessor Bierkeller (Beer Cellar), Gasthof Eisl (Guest House)

When lining up houses across a flat surface it is important to break up the line with various orientations and vegetation. There are actually little "rooms" of houses and activities here.

---
Snow Village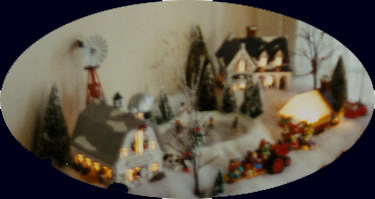 Snow Village Farm
(with a greenhouse, just like my great grandmother's!)
---
Dickens Village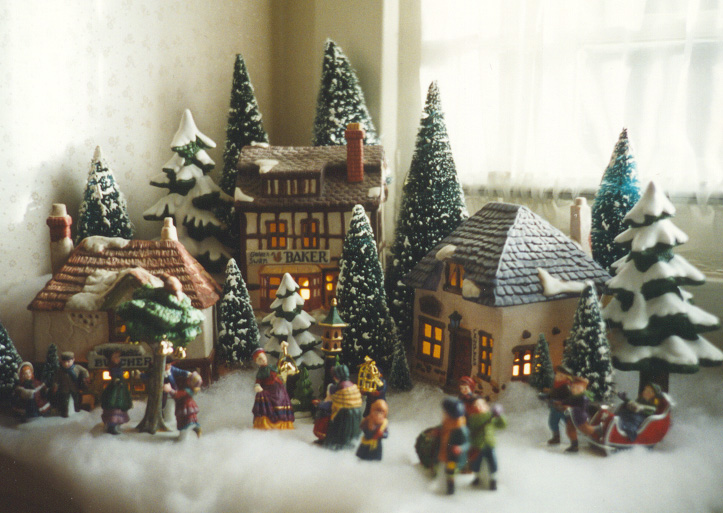 The Butcher, the Baker, the Candlestick Maker
with children playing in the snow
(Left dining room window display)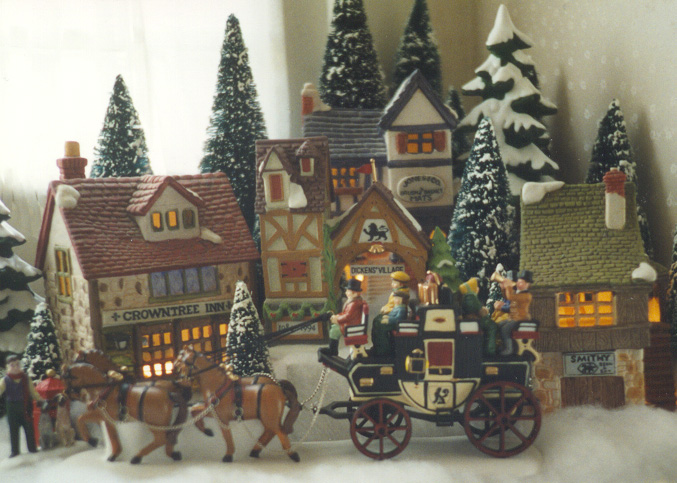 Welcome to the Inn!
Crown Tree Inn, Jones & Co. Brush and Basket, Blacksmith,
and Ten Year Anniversary Postern Arch
(Right dining room window display)

In both of the above displays each building is at a different level, and the postern in the second display adds depth as you look through the center..
---
Room Displays
How does all of this fit into a small home? Villages change seasonally, with a variety of small and large displays. Here is a recent Christmas dining room display (including Town of Bethlehem under the tree and a Dicken's Christmas Carol table centerpiece tableau):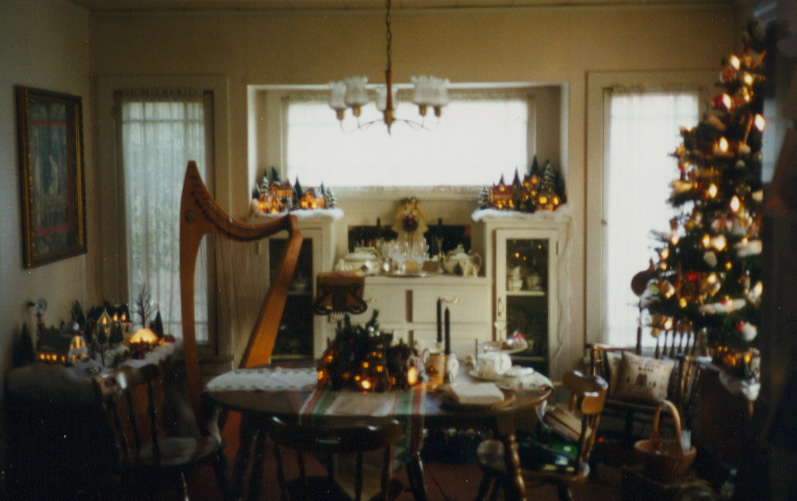 ---
The Dream Continues
In addition we also have the North Pole village, so there is more to come. By the back door we have a small shelf with various small tableaus we change seasonally, as well as a summer camp with Fisherman's Nook in summer time. Disneyland and palaces also abound, and in the kitchen the Snow Village Coca Cola bottling plant is a permanent fixture. Summer is also the time for lighthouses and pier scenes.

The dream continues...

Love, from Lamb and Bear Clark
(Kathleen and John)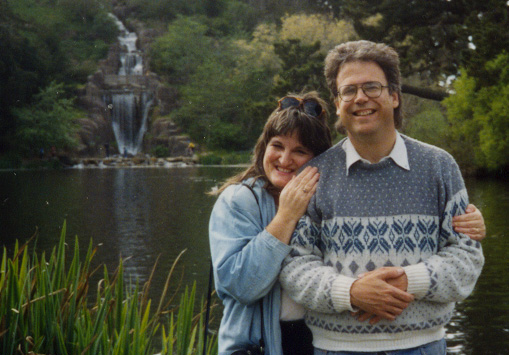 Write to Kathleen