Here are...

Nyellondë
(Haven of the Bells)
a dark walnut wire-strung Triplett Luna Harp
and
Taurëlirulin
(Lark Song Rising Out of a Deep Dark Forest)
Lyon & Healy custom dark walnut 85CG concert grand pedal harp
at home in Pasadena....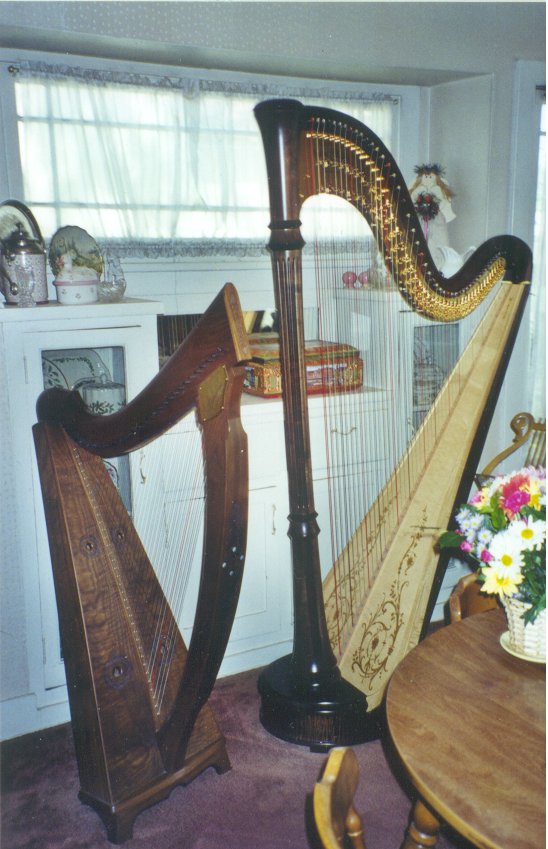 * ~*~*

A shy friend plays

"The Harry Potter Harp"
(Triplett Signature bubinga celtic harp)
(abalone inlay on pillar and around the soundboard)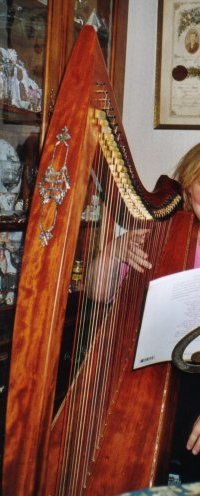 This harp is called "The Harry Potter Harp" because when I sat down and played it at the Harp Center, the room went blue with gold specks and the sound of rushing wind, just like Harry Potter and his wand: "The wand chooses the wizard, Mr. Potter. It's not always clear why." This is a documented case of "the harp choosing the harpist." Somehow the vibrational quality of this particular harp is physically attuned to and expands my aura into the visible realm. I am also surprised how the harp glows in photographs. An exceptional harp by all accounts. I now use this harp for healing improvisations on days when I am not physically able to play my pedal harp, Taurëlirulin.